The Civic Prime condominium is located within the Filinvest Corporate City in Civic Drive, Alabang, Muntinlupa City.
This is considered an ideal location as it is part of a 244-hectare satellite city that is developed by one of the country's top real estate firms: Filinvest. This area s integrated as a commercial urban center, with self-contained residential properties. It is the main example of how business and residence blend in together in one property. The location of this building also places it right in front of the main commercial center within Filinvest Corporate City.
It is also located close to the major thoroughfares in the area, as well as being connected to those major highways in Metro Manila. Civic Drive (where the condominium is located in) is linked to other major highways including Alabang Zapote Road, Corporate Avenue and Parkway Avenue. Meanwhile, the South Luzon Expressway is also located nearby. This makes it easier for you to access roads going to either Manila or Laguna.
The proximity of Civic Prime to major establishments such as schools, hospitals, shopping malls, and business districts is another practical reason to invest here. If you are living in a unit at the Civic Prime, it makes it convenient if you have children who are studying. There are several notable schools within the area such as San Beda College Alabang, De la Salle Zobel, Paref Woodrose, and Paref Southridge School.
For your family's medical needs, you can also rest your worries are some of the best hospitals and health care facilities in Metro Manila are within a few minutes away. Your options include Asian Hospital and Medical Center, Hillside General Hospital, and Alabang Medical Center.
If you are seeking out leisure opportunities, there are plenty to choose from nearby. Civic Drive and other nearby areas in Alabang offer plenty of good restaurants that are worth a try. Your choices include Army Navy, Gilligan's Restaurant, Yellow Cab Pizza Co., and Don Henrico's Alabang.
Meanwhile, Civic Prime is only walking distance from the Festival Super Mall. Therefore, it is a great option if you want to replenish your grocery supply or do some shopping. If you are looking for other malls to shop from, the following malls and shopping centers are only a few minutes away: Starmall Alabang, Festival Alabang, Alabang Town Center, SM Center Muntinlupa, and Ayala Malls South Park. If you are seeking other lifestyle destinations, here are a few to choose from: Mundoc River Park, Filinvest MTB Trail, and X-Site Teen Amusement Center.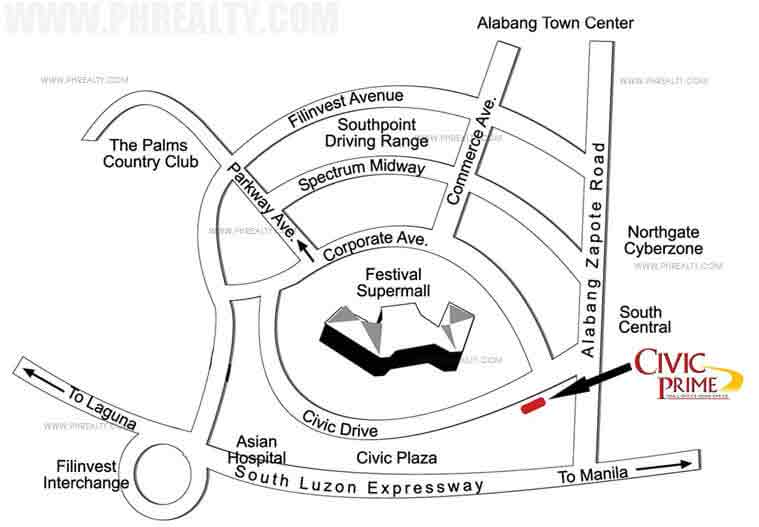 For the commuting public, the Civic Prime's location also makes it highly convenient and easily accessible. It is also located within a few blocks from the South Terminal and South Station. This makes public transport systems readily available when you need them. For those who are driving their own vehicles, the condominium is only a block away from the main road. If you are going to the condominium, it is also accessible from three sides – Civic Drive, Centennial Lane, and Market Drive. This makes it easily convenient to find a way to access it, especially if you want to avoid traffic congested areas.